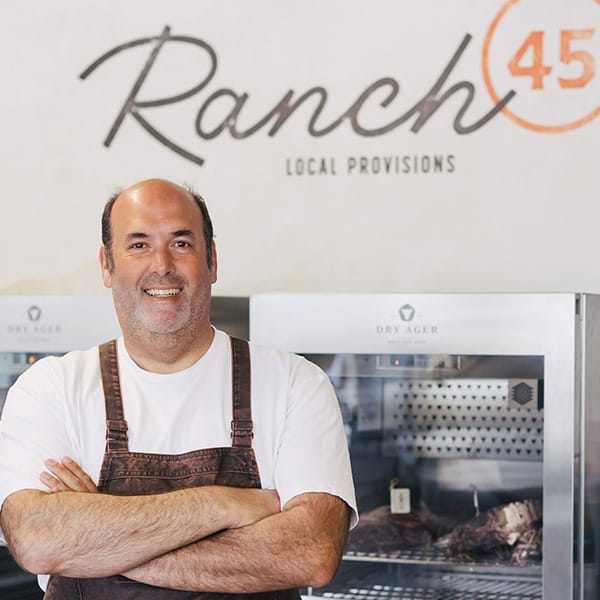 Award-winning Chef Aron Schwartz grew up around fresh, quality food.  His culinary education started at a young age with frequent visits to Chino Farms with his Dad. The taste of the farm fresh produce and quality ingredients still resonates with him today. Ask him about his food inspiration, he responds with a shake of the head and a smile…it is family.  "Growing up, my family's dinner table was filled with good food and lively conversation. Everyone should experience dinner at the Schwartz's table."
A graduate of the acclaimed Culinary Institute of America, chef ventured to Charlotte's in Lakeville Connecticut.  Surrounded by beauty of the Berkshires, he created true farm to table meals for their guests.  He was introduced to Ronnybrook Farm Dairy and what he describes as the best milk, cream and butter he had ever tasted. This enhanced what he already knew to source the best ingredients and let their flavors shine.
Seeking new opportunities and growth, Schwartz set his sights on Las Vegas, where he worked as sous chef at the famed Lutèce in The Venetian. This brought amazing and luxurious ingredients that further enhanced his palate and food education.
Schwartz then returned to San Diego to work as a chef at Bernard'O Restaurant. His expertise led him to the Marriot Marquis San Diego Marina, one of downtown San Diego's premier luxury hotels where he thrived as executive chef of Marina Kitchen, Tequila Bar, and the Exchange. Aron led the company with innovative farm to table cuisine, being the largest restaurant in Southern California to source locally.
Chef Aron brings his experienced palate, attention to detail and joy of cooking to Ranch 45 Local Provisions, alongside his wife GM and Co-Founder Pam at the helm. Chef features local, in season products in his cuisine through relationships with like- minded ranchers, farmers, fishermen and wine growers, which brings his guests the best food in every category. 
His philosophy is to take the finite time he has with his guests, let them leave everything behind and allow the food and company to make it the best part of the day.
He wishes to be the escape where beauty and flavors meet to make memories.
"Always give people more than what they expect through an unpretentious meal made with the best ingredients in a comfortable setting."
Join chef and his team for a seat at the Schwartz's table Wednesday-Saturday evenings from 5:00-8:30pm.