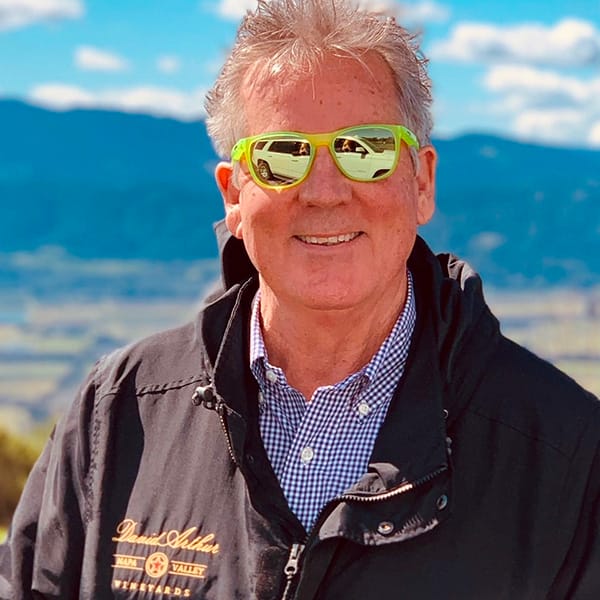 David's interest in the fermentation process began at an early age. A friendship forged on a seventh-grade school bus resulted in some early experimentation with apple juice, yeast culture and plenty of boyhood anticipation. That initial interest soon waned, but would resurface many years later with a much more refined product.
In the early 1970's, David transitioned from University life to the world of food and wine opening his first restaurant in Boulder, CO. This experience cemented his passion for great food, fine wine (and hard work!) The art of hospitality and the cultivation of great friendships has never been lost on David. If there is any reason to celebrate; life, love, family, friends, a beautiful day, David is there with open arms, a mischievous smile and lots of delicious food, tasty libations and plenty of fun!
David was lured to the Napa Valley by his adventurous spirit and the opportunity to do something special. One fateful evening in the winter of 1976, David's father, Don Long, disclosed that during the 1950's and 60's he had purchased nearly 1,000 acres of land in the eastern hillsides of Rutherford. The Judgement of Paris had been published in Time magazine and conversations with Andre Tchelistcheff, the Dean of American Winemaking, ensued. The Europeans had been growing wine in the hills for centuries and the concept of terroir was on the American horizon.
David wasted no time clearing the land, removing rock and planting his vineyard on Pritchard Hill. He began learning about viticulture and oenology through internships at Chappellet, Joseph Phelps and Schramsberg all the while taking classes at UC Davis. Hard work was the name of the game and David had endless energy to get the job done. The result: electricity, water, a barn, a house, a road and nineteen acres of pristine grapevines producing the extraordinary fruit that goes into each bottle of highly acclaimed David Arthur Vineyards wine.
David's energy is contagious. The glass is always half-full (or entirely full in many cases) and his vision and work-ethic are at the heart of our company. It's about family and friends and being thankful for our blessings. One of David's many insightful quotes is: 'We make wine every day...the magic happens when we enjoy it together!'