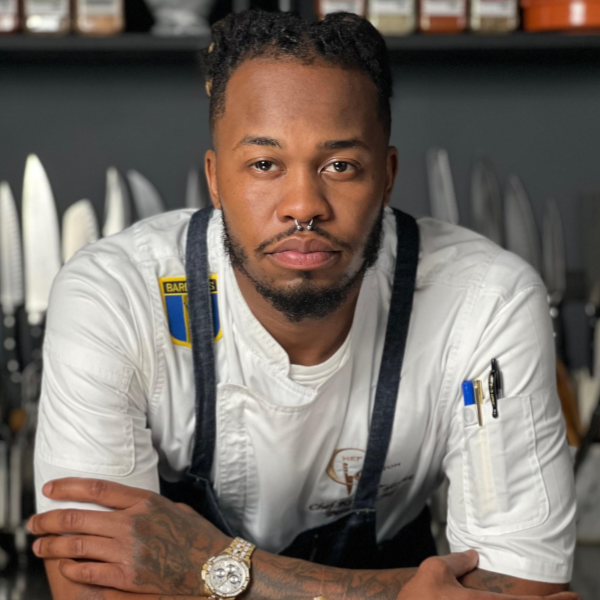 The heart of the man and the soul of the island is the perfect recipe for great cuisine. I was once told that 'every chef has to have a cooking story". Well, what better story than legacy? The story of father and son. Growing up in Barbados, I watched my father pour passion and love into every dish he made. Cooking was his claim to fame as he was known all around the island for his BBQ PIGTAILS. I knew then, I did not want to be just another Chef. I wanted to be known for something timeless and innovative. My cooking journey began upon enlisting in the United States Navy (one of the highlights of my life), where I gained life experience and became proficient in human relations. As a Chef, knowing people from all walks of life is essential in relatability and connection. In 2018, I left the Navy and began an apprenticeship under Chef Geoff Cole of Admirals Experience Inc, traveling and providing meal services to the troops. Here is where I learned respectable business practices that I still use today.
In the midst of my entrepreneurial journey, the question etched into my head was "what's missing?" I wanted to find and provide just that. What is missing from your dining experience, your night out, your romantic and celebratory dinners? That is when I dubbed myself, "The Date Night Chef." It turns out that I was onto something because the response and the recommendations I received were immense. Although San Antonio was good to me, more pertinent duties aroused. I am a proud father of a beautiful son, Kyrie. He is my greatest muse. I moved to Stockton, CA with nothing but my son, and a prayer. I worked day and night, and used everything I learned over the years, to make a name for myself. Fast forward, San Diego is home now for my son and I. Since the transition, I have obtained several accolades, just to name a few, Cofounder of Bad Boyz of Culinary Inc – a nonprofit whose missions statement is to highlight African American Chefs and create awareness through scholarship, events, programs and mentorship.
Awards / Accolades:
Runner up best Chef & Runner up best caterer by San Diego Magazine, Featured on Food network Chopped episode Season 55 episode 9, Men's Health Magazine June issue, featured front page of San Diego Tribune, Head Chef of the Standard Yacht Charter Company, Created San Diego's 1st all-black culinary competition, Best Chef 2020 & 2021 by Black SD Magazine, 2020 Makers Mark Celebrations of Black Chefs, and I only plan to add to that list.
Publication Links:
https://www.sandiegomagazine.com/food-drink/best-restaurants-2023/article_f492230e-f0f8-11ed-8694-236daa7178bb.html
https://www.sandiegouniontribune.com/lifestyle/people/story/2022-02-19/san-diego-chef-partners-with-colleague-to-showcase-rising-talent-among-black-chefs
http://sdvoyager.com/interview/meet-kelston-moore-chef-kelstons-culinary-experience-la-jolla/
https://www.ediblesandiego.com/articles/black-food-matters
https://shoutoutsocal.com/meet-kelston-moore-executive-chef/
https://issuu.com/printandmailexperts/docs/black_sd_magazine_dec2020_web