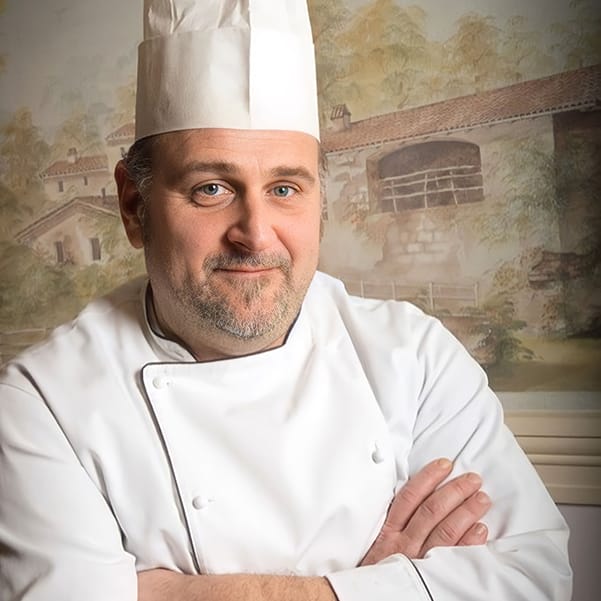 Born in 1974 in Varese, an industrious town of northern Italy, since childhood he develops a great passion for cooking which will lead him to attend the Istituto Alberghiero in Varese.
In 1991 he works in his hometown at local deli Del Corso and after at the restaurant that bears the same name. In the same year he successfully completes an internship with Michelin star chef Gualtiero Marchesi at restaurant Bonvesin della Riva in Milano.
From 1991 to 1993 he works at Locanda del Lago, 1* Michelin restaurant on the shore of Lago Maggiore, where he develops his skills regarding lake fish cooking.
The first milestone dates 1993-1994 when he is hired in the cuisine of the maestro Pietro Leeman at Joia restaurant in Milano, the first vegetarian Michelin star restaurant of Italy where his views of fine dining will be utterly challenged and reshaped.
From 1995 to 1999 chef Salmoiraghi works with Gualtiero Marchesi in his restaurant, the founding father of modern Italian cuisine, where he climbs the kitchen ranks until he is nominated sous chef, and then chef of Gualtiero Marchesi restaurant " Il Lotti", based in Paris, where he gains the restaurant first Michelin star.
From 2001 to 2002 with help from Maestro Marchesi and thanks to chef Salmoiraghi passion for the Eastern cuisines he moves to Japan to work together with the great master Kyomi Mikuni at hotel de Mikuni in Tokyo, 3* Michelin stars. During his experience in Japan he attends the Japanese Fugu (puffer fish) cutting school and stars working in the sushi bar, the first European to be allowed to do so by chef.
Between 2003 and 2004 after his international experiences he moves to Dublin to work at restaurant "Chapter One", gaining a Michelin star in the same year.
In 2004 he is called back to Italy by maestro Gualtiero Marchesi to oversee with him the opening of ALMA International Italian Culinary Institute where he develops the teaching program in order to create the next generation of Italian Michelin star chefs.
Between 2005 and 2007 he is called to collaborate with chef Luciano Tona from "La Fermata" restaurant, where he starts training for the Bocuse d'Or. The culinary competition is held in January 2007 in Lyon and sees chef positioning himself in the shortlist of the 10 best chefs of the world.
In 2008 after maturing the decision to open his own restaurant he goes back to his hometown of Fagnano Olona, a beautiful village lost in the fields a few minute drive from Milano Malpensa airport.
Acquerello restaurant is born in that same year and through great toil and determination it becomes a point of reference for the Italian culinary panorama, gaining its first Michelin star in 2014 and being ranked since 2015 among the 10 best Italian restaurants. Here is where Chef Salmoiraghi, together with his business partner chef Choi, implements and builds his vision for a new modern Italian cuisine.
Silvio Salmoiraghi's Events