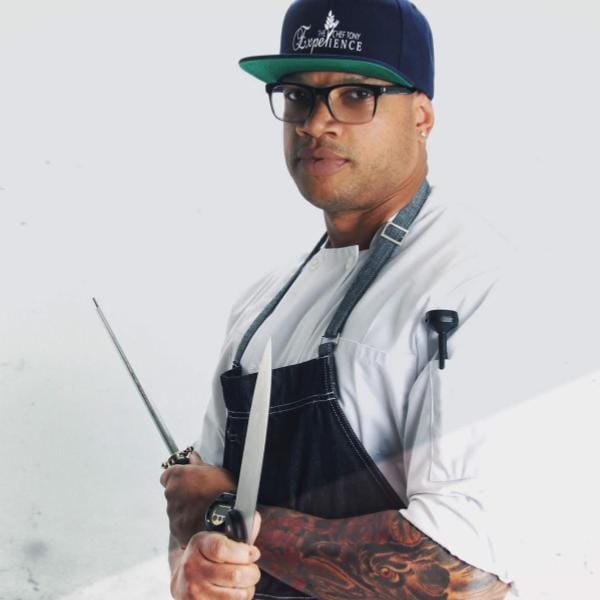 A revered culinary maestro with a career spanning two decades, Chef Tony A. Bennett Jr. is a name to reckon with in the food and hospitality industry. Originally from the Danville Va, Tony's rural upbringing feeds directly into his food philosophy, embodying the warmth, distinct flavors, and hospitable spirit traditional to the region.
While infusing his southern charm into every dish, Chef Tony developed a unique culinary style, drawing tremendous influence from his extensive travels and culinary explorations in Japan, Thailand, the Philippines, Mexico, Middle East , and South America. This blend of rustic comfort cuisine with global gourmet dishes sets him apart, marking him as an authentic gastronomic storyteller.
Recognized for his mastery, he has been decorated with numerous accolades, including the esteemed Mid-Atlantic Cooking Competition medal and the coveted 1st place Vegan Award from NCAAWA. He also distinguished himself as one of the top 1% of best cooks during his military service, where he showcased his ability to deliver exquisite cuisine under intense pressure.
Tony's culinary journey has taken him from the military kitchens to the elite yachts in San Diego, catering to a diverse clientele ranging from high-ranking military officials to internationally recognized athletes, actors, and celebrities.
His spirit of giving back to society remains unwavering with his active involvement in the Bad Boys of Culinary Foundation. He firmly believes in sharing and growing his culinary wisdom with aspiring chefs and those less fortunate.
Endorsed with a credible track record, Chef Tony A. Bennett Jr. represents the culinary world's gold standard, marrying Southern charisma with worldly flavors. His captivating concoctions and tenacious pursuit of culinary excellence continue to imprint a memorable flavor on every palate fortunate enough to experience his craft.
Tony A. Bennett Jr.'s Events