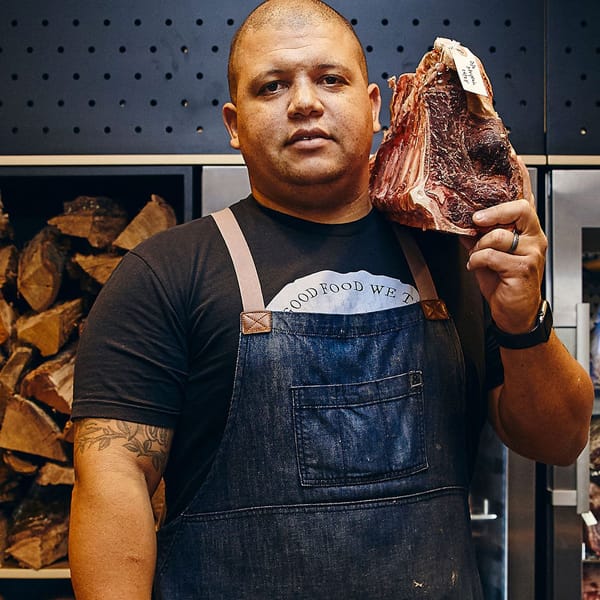 Coming of age along the shores of Cape May, Chef Brad Wise never had culinary aspirations. A serendipitous tag-along led to a job mopping floors at Jake's Pizza. Now, he's one of the region's leading chefs and restaurateurs, with five distinct concepts that highlight the bold, smoky, wood-fired flavors he's known for.
His story begins on the Central Coast. Dating his now wife, whose family has roots in the region, Chef fell in love with Santa Maria-style grilling. An ancient method of cooking, live fire proved to be fun for him, the unharnessed, spontaneous flame, the drama fueling his obsession with wood-fired everything. This has become his unintentional trademark, a signature style that is on full display across his portfolio of restaurants, which to date include Trust, Fort Oak, Rare Society, Cardellino, Mr. Trustee, and The Wise Ox.
Before this, he was the Executive Chef at JRDN and Belmont Park. Itching for something to call his own, Chef began quietly cultivating a few investors, showcasing his idea for a restaurant by hosting tastings at his house. The flavors, the ideas of marrying food, beverage, and service was the springboard of TRUST, which opened in 2016. Neighbors flocked to the dining room, devouring shared plates composed of wood-grilled vegetables and rustic entrees, paired with wine and cocktails by his passionate team. Accolades came swift, anointing this fledgling restaurant group as one to watch in the city, with a chef hellbent on pushing San Diego's culinary reputation forward. 
Chef made quick work of building an empire. Fort Oak, with its sophisticated menu and Mid-Century design, signaled a progression in his preferred cooking method. Cardellino, an Italian-American restaurant focused on handmade pasta and pizzas, opened in early 2020, and The Wise Ox, a butcher and sandwich shop in North Park, debuted in September of the same year.
While the successes are what inevitably make it into these biographies, this particular failure should not go unnoticed in this one. A boilermaker bar lasted a year, and upon folding, ignited what is perhaps his greatest invention. Rare Society, an homage to the infamous Vegas retro steakhouses that simultaneously highlights the distinct Central Coast cooking style so beloved by Chef, opened in late 2019. The reception was warm, and what he's created is a neighborhood steakhouse that's comfortable and unpretentious, elevated through the quality of the dishes and warm hospitality.
What's next for our protagonist? His fully-fledged restaurant collective is full-steam ahead, and he's committed to creating a new restaurant for the next generation of hospitality workers. With a belief in providing an honest wage and giving those who work for him the tools to provide for their families and build their own retirement, Chef hopes to redefine what working in this notoriously taxing environment can mean. And in the meantime, you can find him raising his two young daughters, Charlie and Georgie, with his wife, Kristen, and enjoying all the great things America's Finest City has to offer.