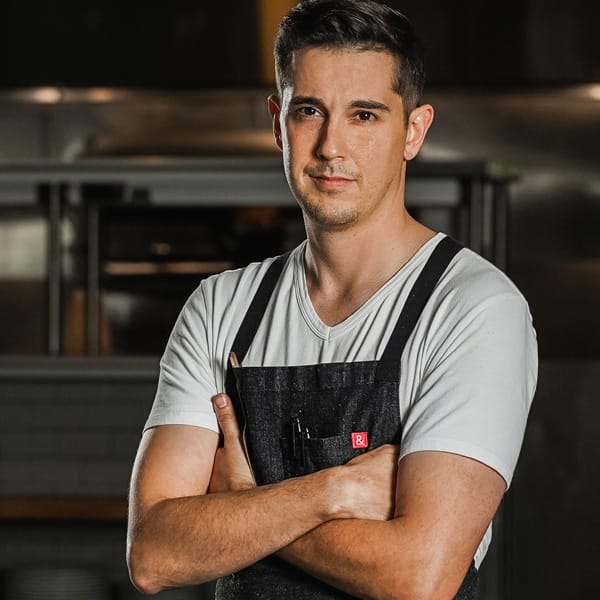 Since 2016, Herb & Wood has served as a gathering place for locals and travelers, rightfully earning its position as an archetype for San Diego's dining scene. With the promotion of Carlos Anthony to Executive Chef, the Little Italy institution has been reinvigorated with a fresh energy and inspiration, ready to take on the next era of culinary innovation in San Diego.
Drawn to Brian Malarkey's energy and charismatic TV persona since he was a boy, Carlos Anthony initially reached out to Brian in July of 2009, with the goal of moving to San Diego to work for him and him alone. Upon relocating, Carlos joined the opening team at Seersucker and worked for several years in Malarkey's numerous Fabric Restaurants. After spending some time opening other restaurants such as Hillcrest's Salt and Cleaver and Taco Asylum Gourmet Tacos in Costa Mesa, Carlos returned to Malarkey's side to help launch Herb & Wood.
While Carlos and Brian share a lot of similar personality traits, evident in their enthusiasm for food and people and their zest for life, Carlos has forged his own path as the Executive Chef at Herb & Wood, drawing influence from not only Brian, but his own grandmother, family, industry peers and coworkers. Ever present throughout the menu is Chef Carlos' appreciation for San Diego's local produce and seafood, highlighting the seasonality of California's abundant offerings, while still providing reliability and comfort in its beloved staples.
Illuminating feminine influence throughout the restaurant, Herb & Wood is a blend of passionate and bold flavors nurtured by the delicate hand of Chef Carlos, who credits his grandmother for teaching that every step of preparation is reflected in the outcome. Leading the team with an inspiring dedication to the guest experience, Carlos uses his unwavering enthusiasm to instill the same commitment throughout his team. Being welcomed into Herb & Wood is like being welcomed into a family, delivering a unique sense of comfortability and intimacy in a 231-person seated restaurant. It's no question that the restaurant's size and grandeur aid in its charm, but it takes much more to establish a culture of familiarity throughout a restaurant this large; Chef Carlos believes each person plays a role in the guest's experience, a sentiment he impresses upon his team, and is evident in every interaction, making Herb & Wood a "source of nuclear energy" - Troy Johnson, in San Diego's flourishing dining scene.
What started as a dream for Chef Carlos has become a reality with all of San Diego and his mentor Malarkey rallying behind him, who in his own words is eager to pass on the restaurant to Carlos, who feels like a son to him. Frequently joking about their father-son relationship, Herb & Wood's team has always felt like a family. Continuing a legacy of mentorship, Carlos devotes intentional time into building up his team and identifying each person's unique strengths and goals, with the clear intention of hiring and promoting internally, further establishing the restaurant's family ethos.