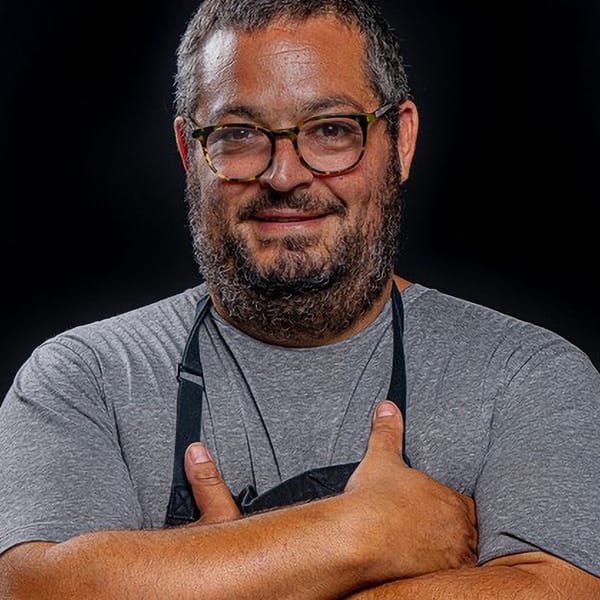 Eric Greenspan is an acclaimed chef and popular TV personality. He is the author of two cookbooks: The Great Grilled Cheese Book: Grown-Up Recipes for a Childhood Classic (published by Ten Speed Press) and Cook Up Comfort with Eric Greenspan (published in partnership with WW).
Following his graduation from UC Berkeley's prestigious Haas School of Business with a Bachelor of Science in Business Administration, Eric attended the acclaimed Le Cordon Bleu culinary school in Paris. He went on to train in New York with such celebrated chefs as Alain Ducasse, David Bouley, and Rocco DeSpirito, as well as apprenticing at three-star Michelin chef Ferran Adria's El Bulli in Rosas, Spain.
As executive chef at Los Angeles' acclaimed Patina, Eric garnered critical acclaim for his imaginative and bold cuisine and was named one ofAngeleno Magazine's "Eight Hot Chefs" in 2003. His kitchen was the top-ranked French restaurant in the 2004 Zagat Guide.
 In spring 2007, Eric opened The Foundry on Melrose to similarly rave reviews and resounding success. The Foundry was runner-up for Los Angeles Magazine's "Best New Restaurant."  With its swanky bar, live music, and unsurpassed cuisine, the restaurant earned a swath of accolades. Condé Nast Traveler named it Best New Restaurant, it made Los Angeles Magazine's Top 75, and the "Essential 99" restaurants of the late LA Weekly Pulitzer-winning food critic Jonathan Gold. The Foundry was also a semi-finalist for The James Beard Foundation's Best New Restaurant in America.
Starting in 2011, Eric has hosted, judged, competed or appeared on countless TV shows, including on Food Network, A&E, National Geographic, NBC, Fox, Travel Channel, FYI, Tasted, Tastemade, Facebook Watch, and many others. He defeated Bobby Flay on "Iron Chef America," is a regular judge on Food Network's "Guy's Grocery Games" and makes regular appearances on "Guy's Ranch Kitchen."
 In 2017, Eric started the Alt/Grub/Faction, a delivery only "virtual" kitchen operation and concept incubator consisting of four brands" Chino, 2 on a Roll, Brekkie Breakfast Burritos and Bubu's Birds and Burgers. Greenspan has become a leading voice in this emerging market and his work and insights in the "ghost kitchen" field have been featured in Food & Wine, the Los Angeles Times, Restaurant Hospitality and Inside Hook. 
Eric has been a pioneer in the emerging Ghost Kitchen/Virtual Restaurant space since its inception.  In 2019, Eric was named to the 2020 National Restaurant News Power List for his work on the Alt/Grub/Faction, one of the first chef driven  multi-concept delivery-only concept incubators that he started in 2017.  He later disrupted the industry as Culinary Director for Virtual Dining Concepts, launching celebrity and IP driven virtual brands such as Pardon My Cheesesteak and Mr.Beast Burger, which became the fastest growing restaurant concept in history.  Greenspan has become a leading voice in this emerging market and his work and insights in the in the "dark kitchen" field have been featured in many publications including Food and Wine, the Los Angeles Times, and the Wall Street Journal. 

Eric is the Co-Founder of New School American Cheese, a premium American Cheese brand launched in 2022.  Made with aged cheddar, real cream and real butter, New School American is another example of Eric's tireless devotion to elevating American comfort classics.  New School American is available in discerning restaurant establishments and limited retail nationwide. 

Eric has done consulting across many facets of the food industry, including concept development, product development and strategic marketing. 
He has been profiled by such publications as The New York Times,Wine Spectator, Art Culinaire, Los Angeles Confidential, Angeleno, and Los Angeles Magazine. Named 944 Magazine's "Most Buzzworthy Chef in America." He also won the 2008 Grilled Cheese Invitational.  He lives in LA with his wife and two sons.