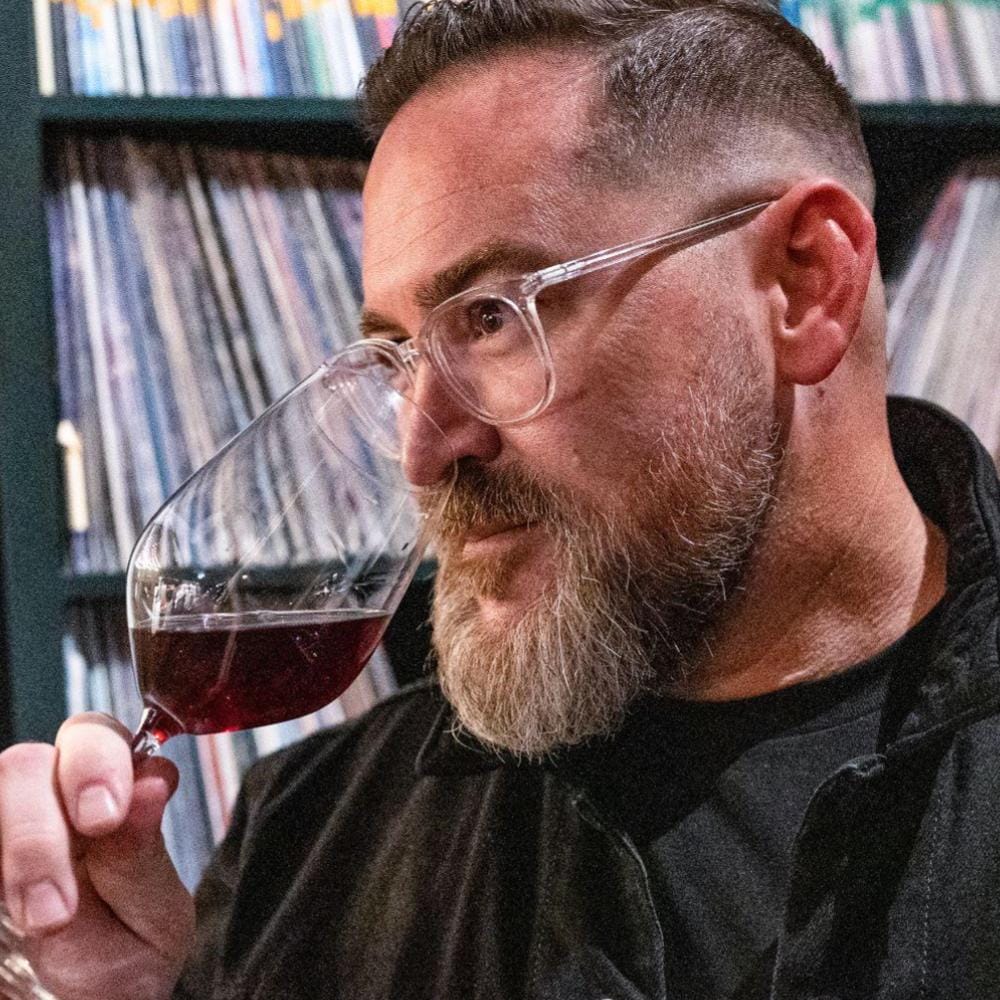 Winemaker, DJ, Dad
Ted Glennon is a 6th generation of his family born in California and the first to produce wine. He left his career as a top sommelier to pursue winemaking and champion his home state. His winery, Vinos Finos de California, produces Vocal Vineyards' single site reserve Pinot Noir and Cabernet Sauvignons, a reserve Chardonnay Lasai, and a fresh chillable red wine Sabroso!
When not in the cellar you may find Ted in the DJ booth spinning rare vinyl records at hip wine bars and restaurants around the country as his alter ego: DJ Soigné. "Music has always been a big part of my life, I've always been a crate digger and a total music nerd. I started to DJ in 2015 to promote my first wines and it's evolved since then into an 'anti-wine dinner' no interruptions, no formality, no stress – they pour my wines for you, and I play funky music and we all have a great time." Today Ted's massive, rare record collection and DJ skills have turned DJ Soigné into its own thing with a serious client list for private events.
Raised in the eastern Sierra Nevada mountains, Ted found his way to winemaking through a career in restaurants and hospitality. He led award-winning wine programs as a sommelier, including Restaurant 910, The Hotel del Coronado, Restaurant 1833, Quince, Rose Rabbit Lie and Post Ranch Inn.
In 2012, Ted worked harvest in Piedmont in Barbaresco, and it became clear that wine growing and production was his path. For 11 years, he has followed his vision of producing exceptional California wine. Through the lens of his wines Ted seeks to celebrate the complex history of California.
Ted Glennon is a professional producer of wine and food festivals and unique wine events, seminars, and dinners. Some of his former and current clients: Lexus, Chase Bank, Pebble Beach Food and Wine, Los Angeles Food and Wine, Santa Fe Wine and Chile, Aspen Food and Wine, and Four Seasons Maui Wine and Food Classic, Wine Rival, S.C.M.W.G.A. and L.W.E. With this experience Ted returns to San Diego and lay plans for the future of the Del Mar Wine and Food Festival.
Ted is based in Salinas in Monterey California and is the proud Dad of two amazing daughters.